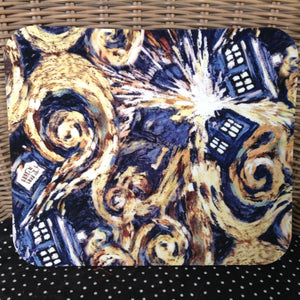 Fabric Computer Mousepad Made With Police Box Dr. Who Starry Night Exploding TARDIS Fabric
This mouse pad is made from Exploding TARDIS Dr. Who fabric - Starry Night!
High quality fabric mouse pads measure 9.25" by 7.75" and ¼" thick with a non-slip rubber base.
Materials: Rubber Mousepad,Cotton Fabric
--------------------------
This is not a licensed BBC/Dr. Who product.
It is however, hand-crafted from BBC/ Dr. Who fabric.
I am not affiliated with or sponsored by BBC or Dr. Who or it's creators.
--------------------------- 
---
Share this Product
---
More from this collection